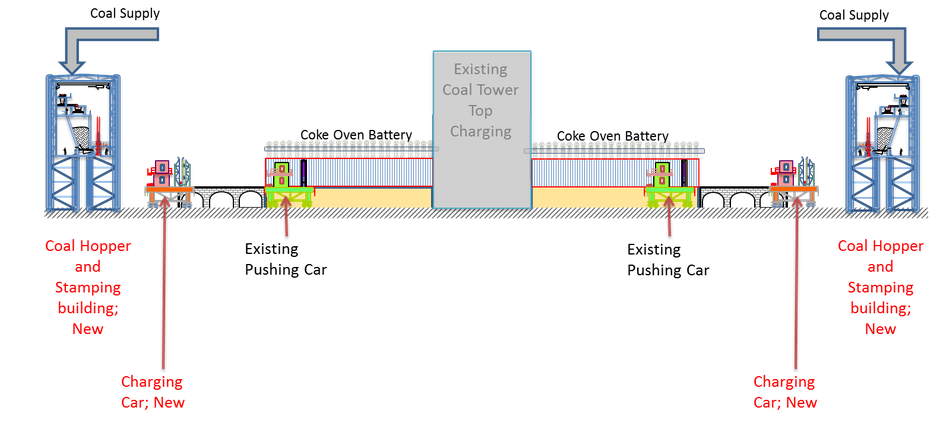 Mode of operation:
The charging car is traveling under the coal tower.
The plate-/vibration feeders are staring and spraying a layer of coal into the stamping box. Hereby the coal will fall till the bottom of the box, means to the top of the charging plate.
The power system of the stamping units can be switched on and the compacting procedure will start.
If the coal cake has reached the correct highness the stamping system will stop automatically and the drop hammers will be lifted in the home. Now the charging machine can leave the position under the coal tower and travel to the next oven.
During the coal cake preparation, the pushing machine has opened the coke oven door, cleaned the coke oven door, cleaned the coke oven frame, pushed out the coke and make room for the charging machine.
If the charging car reached the position of the last pushed oven, the machine should move in the right and proper position.
The stamping box door in front of the oven moves in the "open position".
After the complete opening of the stamping box, the movable wall of the Charging machine will be opened. The result is that a gap between coal cake and stamping box wall exists and the stamped coal cake is standing just on the charging plate.
The charging plate – which will be driven via roller chain and electrical motor – will charge the coal cake completely into the oven. A special unit (the charging trestle) which is installed at the back of the charging plate moves also forward and will be locked, if the coal cake is completely charged into the coke oven. After this the charging plate will remove backwards and –if the plate is nearly pulled out under the coal cake- the charging trestle will be relocked and will be pulled back via winch. Now the charging plate moves back in its home position, the movable wall and the stamping box door will also be closed.
Now the Charging machine will move back to the coal tower and the Pusher car will close the coke oven door and the cycle is finished, the next pushing/charging will be executed by the same system.
Learn more about how you can maximise your efficiency and productivity